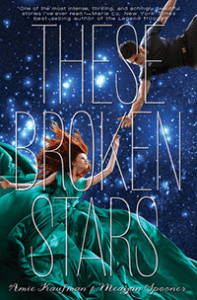 A New York Times and international Bestseller, in development for TV with Off The Grid Entertainment and MGM.
THESE BROKEN STARS is out now from Disney-Hyperion in the US, and Allen & Unwin in Australia. You can check out the These Broken Stars website for the best ways to buy your copy!
"Absolutely brilliant. This is the sci fi I've been waiting for!" — Beth Revis, New York Times bestselling author of Across the Universe.
"One of the most intense, thrilling, and achingly beautiful stories I've ever read. Kaufman and Spooner will break your heart with skilled aplomb, and you'll thank them for it. Absolutely incredible! If I have to, I will come to your house and shove this book into your hands!"—Marie Lu, New York Times best-selling author of the Legend trilogy
"With rich, complex characters and a dynamic—and dangerous—new world, THESE BROKEN STARS completely transported me." —Jodi Meadows, author of the Incarnate series
Honours/Awards
Winner, Aurealis Award for Best Young Adult Novel, 2013
Huffington Post Best Overall YA Book of 2013
VOYA Magazine's Best Science Fiction, Fantasy & Horror List, 2013
Romantic Times Top Pick
Shortlist, Gold Inky Award
About THESE BROKEN STARS
It's a night like any other on board the Icarus. Then, catastrophe strikes: the massive luxury spaceliner is yanked out of hyperspace and plummets into the nearest planet. Lilac LaRoux and Tarver Merendsen survive. And they seem to be alone.
Lilac is the daughter of the richest man in the universe. Tarver comes from nothing, a young war hero who learned long ago that girls like Lilac are more trouble than they're worth. But with only each other to rely on, Lilac and Tarver must work together, making a tortuous journey across the eerie, deserted terrain to seek help.
Then, against all odds, Lilac and Tarver find a strange blessing in the tragedy that has thrown them into each other's arms. Without the hope of a future together in their own world, they begin to wonder—would they be better off staying here forever?
Everything changes when they uncover the truth behind the chilling whispers that haunt their every step. Lilac and Tarver may find a way off this planet. But they won't be the same people who landed on it.
The first in a sweeping science fiction trilogy, These Broken Stars is a timeless love story about hope and survival in the face of unthinkable odds.
Praise for THESE BROKEN STARS
*Starred Review* These Broken Stars is at its heart a love story. Voiced in alternate chapters, Lilac and Tarver are characters of depth, complexity, and strength, young people who alternately elicit the reader's admiration, frustration, and sympathy. While the book is the first of a promised trilogy, it stands on its own as a testament to love, loyalty, courage, and the power of good over dystopian greed and perversity. — BOOKLIST
Kaufman and Spooner's debut collaboration is a stunning, gorgeously imagined romance with epic sweep, brimming with lush detail of setting and intricate character study. It's the kind of read to savor, but the survivalist plotting still rushes the reader to keep turning pages. — INGRAM LIBRARY GROUP
With well-developed characters and an excellent narration style, Amie Kaufman and Meagan Spooner have crafted an insightful, shrewd and genuinely moving exploration of life, humanity and the moral obligations neglected in the name of progress. These Broken Stars is a romantic and heartbreaking tale that is complete in its own right while still leaving readers excited for future instalments. Intense, emotional and compelling, it will appeal to readers who like their sci-fi thoughtful and challenging–and just a little bit sexy. — BOOKS + PUBLISHING
Kaufman and Spooner couple an epic romance with dazzling science fiction in a tale that will appeal to lovers of both genres. This is a must-read. 5Q (Quality rating of 5/5), Best Science Fiction, Fantasy & Horror List, 2013 — VOYA MAGAZINE
*Top Pick* This is not a lighthearted adventure story; this is a novel about survival. As the protagonists deal with insanity, death and utter despair, the complete hopelessness of their situation makes it more compelling, and the bond that they form all the more real. 4.5/5 — ROMANTIC TIMES BOOK REVIEWS
First-time author Kaufman and coauthor Spooner begin their science-fiction romance in familiar territory and then chart a course that goes to new heights … a wonderful tale that should appeal to both teen and adult readers. — SCHOOL LIBRARY JOURNAL
Strange visions and apparitions give the story a chilling edge, and a late revelation elevates these developments into entirely new territory. In a collaboration that, at times, evokes Lost, Titanic, and Romancing the Stone, Spooner (Skylark) and newcomer Kaufman do an excellent job of keeping their story from falling into clichéd romantic territory … the external conflicts and underlying mysteries will keep readers guessing (and turning the pages). — PUBLISHERS WEEKLY
Leave a Reply
error:
Content is protected !!