Beyond the End of the World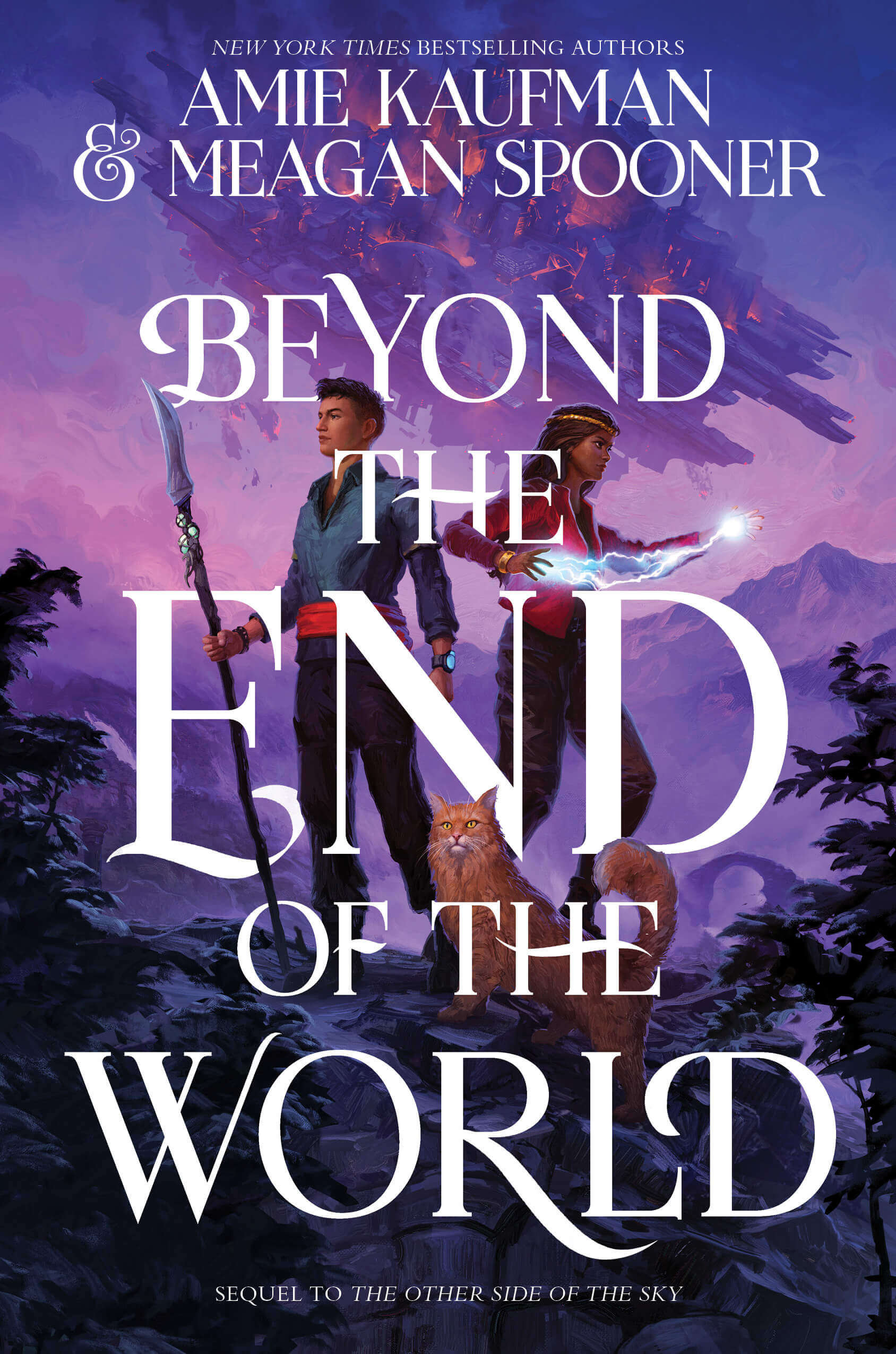 Perfect for fans of Brandon Sanderson and Laini Taylor, this sequel to New York Times bestselling authors Amie Kaufman and Meagan Spooner's genre-bending fantasy The Other Side of the Sky takes us to the grand sky-city of Alciel, where danger and mystery await.
Time to stop Inshara. Time to find a way between worlds. Time to find each other again.
Nimh still holds on to her divinity, if only by a thread.
In her final confrontation with Inshara, the woman determined to take her place and rule Nimh's kingdom, both Nimh and her enemy were sent to the world above, in the cloudlands.
Now North looks to the sky, left behind on the surface world.
Desperate for a chance to join the girl he loves and save his world, North will stop at nothing to find a way back to his home in the sky-city of Ciel. Before it's too late to save anyone.
But more awaits them in the world above than North or Nimh could ever expect. And as they come together and team up with allies from above and below, they face an ultimate test of their bond, their abilities, and their belief in each other in a quest to save their worlds.
Vivid, compelling, and absolutely magnetic, this much-anticipated sequel to New York Times bestselling authors Amie Kaufman and Meagan Spooner's The Other Side of the Sky has something for every reader: a star-crossed love full of tantalizing longing, unique and immersive new worlds to explore, and nonstop thrills that escalate into an unforgettably electric conclusion.
---
---
---
Reviews
"A vivid and compulsive thriller set in a beautiful, perilous world of myths and treachery. You won't want to put it down." — Laini Taylor, New York Times bestselling author of the Daughter of Smoke and Bone series
"I was left breathless by the book's twists and turns, and was unprepared for the ending—it blew me away. Stop everything and read it!" — C. S. PACAT, NYT bestselling author of Dark Rise
"Coauthors Kaufman and Spooner (the Unearthed duology) reunite for this propulsive, tender-hearted duology opener… evocative prose, escalating intrigue, and charismatic, predominantly olive- and brown-skinned characters with diverse sexual orientations and gender identities keep the pages turning." — Publishers Weekly
"Amie Kaufman and Meagan Spooner prove they are two living goddesses of writing, creating two compelling worlds with high stakes and gripping emotions." — Sarah Rees Brennan, New York Times bestselling author of the Demons Lexicon trilogy and the Lynburn Legacy series.
"Kaufman and Spooner, who also collaborated on the Starbound Trilogy, return with another richly drawn, tantalizingly romantic sf series starter. An especially action-packed back half will ensure readers come running back for the next volume." — Booklist
"A complex, intricately woven tale, placed in an intriguing and unique world. This passionate story will thrill devotees of Kaufman and Spooner's "Starbound" series while also appealing to fans of Naomi Novik, Marissa Meyer, and Claudia Gray." — School Library Journal
---
Publishers
Australia: Allen & Unwin
US: HarperCollins
Spain: Hidra

German: DTV
Turkey: Ephesus Publishing
Germany: DTV