Unearthed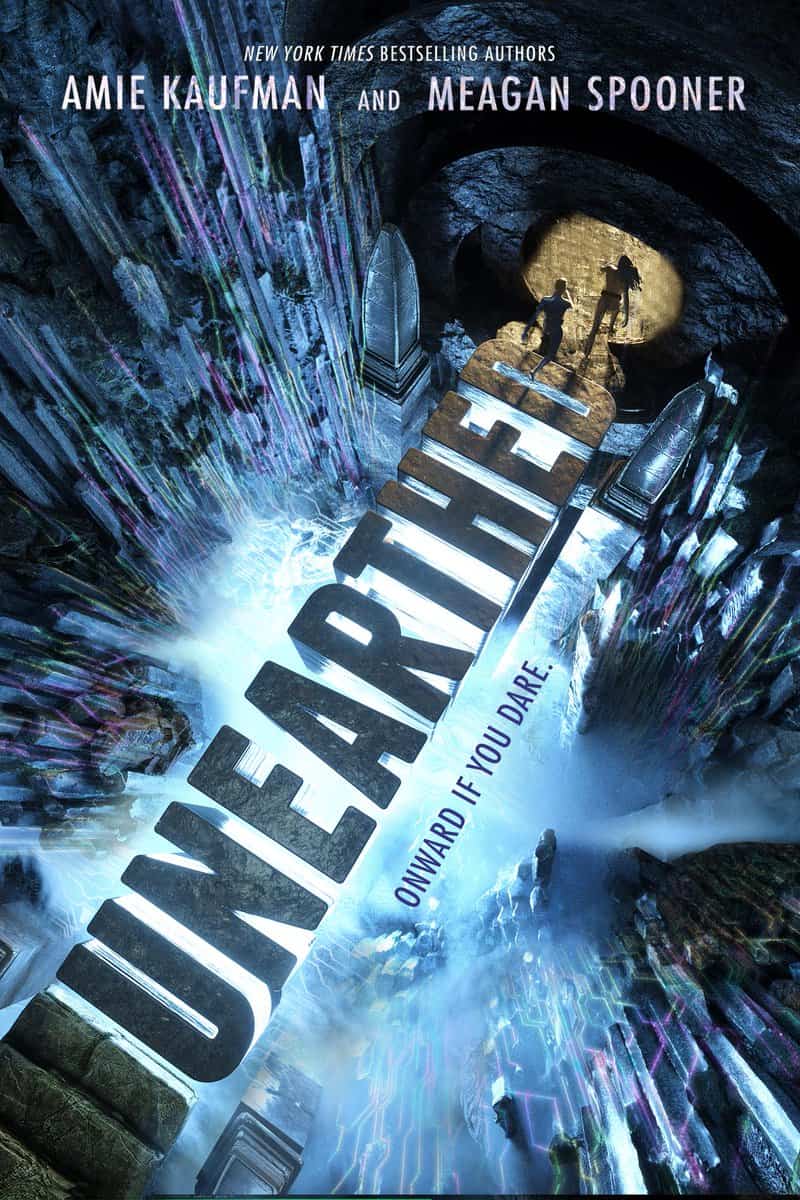 The bestselling Unearthed is in development for film with Columbia Film and Cross Creek Pictures, with Doug Liman (The Bourne Identity, Edge of Tomorrow) attached to direct, and Jez and John-Henry Butterworth (Edge of Tomorrow, SPECTRE) penning the screenplay.
When Earth intercepts a message from a long-extinct alien race, it seems like the solution the planet has been waiting for. The Undying's advanced technology has the potential to undo environmental damage and turn lives around, and Gaia, their former home planet, is a treasure trove waiting to be uncovered.
For Jules Addison and his fellow scholars, the discovery of an alien culture offers unprecedented opportunity for study… as long as scavengers like Amelia Radcliffe don't loot everything first. Mia and Jules' different reasons for smuggling themselves onto Gaia put them immediately at odds, but after escaping a dangerous confrontation with other scavvers, they form a fragile alliance.
In order to penetrate the Undying temple and reach the tech and information hidden within, the two must decode the ancient race's secrets and survive their traps. But the more they learn about the Undying, the more their presence in the temple seems to be part of a grand design that could spell the end of the human race…
---
---
---
Awards
2019 LITA Science Fiction Notables List
---
Reviews
"A literally breathtaking archaeological expedition. Spooner and Kaufman prove once again that no one does high-stakes adventure shenanigans like they do." ―E. K. Johnston, #1 New York Times best-selling author of Star Wars: Ahsoka
"Kaufman and Spooner prove that their first brilliant installment was no fluke with this strong second outing. They provide complex characters and a situation with no simple solution. There is action, a spark of romance, and a mystery, all set on a fully-realized planet. This should have broad appeal among teen and adult science fiction readers." —School Library Journal
"One of the most intense, thrilling, and achingly beautiful stories I've ever read." —Marie Lu, New York Times best-selling author of the Legend trilogy
"Mia and Jules have chemistry and work well together, their partnership is entertaining and believable, and the villains and dangers are similarly plausible. A nerve-racking cliffhanger will leave readers eager for the second half of this planned duology." ―Publishers Weekly
"Kaufman and Spooner's debut collaboration is a stunning, gorgeously imagined romance with epic sweep, brimming with lush detail of setting and intricate character study. It's the kind of read to savor, but the survivalist plotting still rushes the reader to keep turning pages." —Ingram Library Group
---
Publishers
USA: Disney-Hyperion
Australia/New Zealand: Allen & Unwin
Germany: Fischer
Spain: Hidra

France: J'ai Lu
Germany: Fischer
Brazil: Editora Morrobranco
Turkey : Pegasus
---
CHAPTER ONE: AMELIA
This is really, really not going the way I'd planned.
The two scavengers below are talking to each other in Spanish, laughing and joking about something I can't understand. Lying facedown against the rock, I wriggle forward just enough to see the tops of their heads over the edge of the overhang. One of them is taller, bulky in the shoulders. He's around thirty or thirty-five, and easily twice my size. The other one's smaller, a woman, I'm guessing, by the way she stands—but even she'd have the edge on me if they knew I was here.
You were right, Mink, I should've taken that gun. At the time, it felt good to surprise the Contractor—to make her eyebrows shoot up underneath her fringe and stay there. "I don't need a gun," I'd scoffed. "No one will ever even see me down there." Because if I were home, if I were scavenging a city on Earth, that would be true.
But studying the topographic surveys and satellite images of Gaia's surface didn't prepare me for just how barren this landscape is. This isn't like the ruins of Chicago, full of sewer tunnels and half-collapsed skyscrapers, with infinite places to hide and move around unseen. There aren't even any plants on this lifeless world, no shrubs for cover or trees to hide in. Here there's just open desert on either side of the canyon, and I'm screwed.
I'm screwed.
The raiders are filling up their canteens at the little spring under the overhang, the same spring marked on our pirated maps that drew me to this spot. Though I can't understand their language, I don't need to know the words to tell that they're grumbling about the dusty, sandy quality of the water in the pool. Like they don't even get how lucky they are that there's water on this planet in the first place. The first one we've found with the right air—sort of—the right water, the right temperature and gravity. Perhaps the only planet like this, besides Earth. And we only found this one because we followed the coordinates left by ancient creatures long dead. There's no telling when we'll find another world like it, unless we find more coordinates in the ruins left by the Undying—ironic that the aliens called themselves that, considering they did. Die, that is.
I hold my breath, hoping that the scavengers don't look around while crouching to replenish their water. My pack isn't exactly well-hidden, since I wasn't expecting company, but they haven't noticed it yet. Idiots. But I'm an even bigger idiot, because I broke my cardinal rule—I let go of my stuff. I put it down because it was heavy in this gravity, and I wanted to see what was over this ridge. The desert is marked by groupings of immense rock formations stretching up toward the sky, swept into shape by the wind, and by water that's long gone now. I'm going to end up marooned hundreds of light years from home with no supplies because I wanted to admire the damned scenery. Just a few chunks of red-gray rock stand between the raiding duo and my only hope at survival in this terrain.
Not only does the pack contain my food rations, my climbing gear, my water, my sleeping mat, and everything else I need to live out here—it contains my breather. The atmosphere here's got just a little more nitrogen than Earth's. Eight hours a day or so, you need to strap on a breather and suck in oxygen-enriched air, or your thinking scrambles, and then your body shuts down. And my breather—my lifeline—is in the bag a meter or two from a pair of raiders.
The man lifts his head and I jerk back, rolling over and gazing up at the empty blue sky. The light of the binary suns is harsh on my face even through the protection of the kerchief, but I don't move. If I don't get my stuff back, I'm dead. I won't even be alive when they come to get me in three weeks, much less carrying enough loot from the temples to pay my exit fee.
My mind scrambles for a solution. I could call Mink—except my sat-phone is in my pack, and the comms satellite won't be over this part of the planet for another six hours anyway. And even if I did find a way to signal her, she made it clear when she dropped me on this rock that I was only getting a ride back off the ground again if I had something to make it worth her while.
I have to get that pack.