Ice Wolves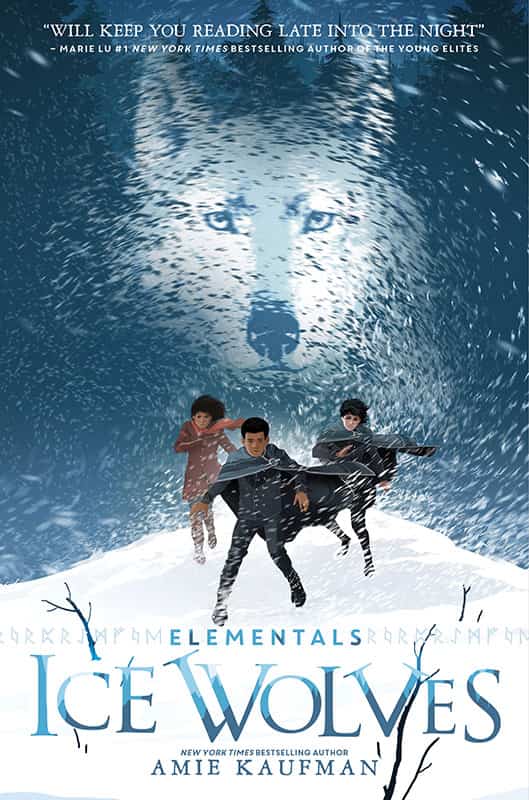 "Unique and utterly spellbinding; a fast-paced, fantastical thrill ride from beginning to end." —Gregory Funaro, New York Times bestselling author of Alistair Grim's Odditorium
Everyone in Vallen knows that ice wolves and scorch dragons are sworn enemies who live deeply separate lives.
So when twelve-year-old orphan Anders takes one elemental form and his twin sister, Rayna, takes another, he has to question whether they are even related. Still, whether or not they're family, Anders knows that Rayna is his best and only true friend. She's nothing like the brutal, cruel dragons who claimed her as one of their own and stole her away.
To learn what he needs to rescue her, Anders will have to enlist at the foreboding Ulfar Academy, a school for young wolves that values loyalty to the pack above all else. But for Anders, loyalty is more complicated than blind obedience, and friendship is the most powerful shape-shifting force of all.
New York Times bestselling author Amie Kaufman delivers heart-pounding adventure and breathtaking magical inventions in this unforgettable story about finding one's place in a sharply divided world.
Read the cover reveal and interview at USA Today!
Buy directly from Harper Collins.
---
---
---
Awards
AA Junior Library Guild Selection
An Indie Next Spring 2018 pick
Kirkus Starred Review
Readings Children's Prize – shortlist
Gold Inky Award – longlist
---
Reviews
"This engaging page-turner honestly earns its forthcoming sequel. An engaging world and cliffhanger ending leave readers wanting more." — Kirkus starred review.
"Amie Kaufman charges onto the scene with Ice Wolves, a story full of epic beasts and endearing heroes that will keep you reading late into the night. If you've ever wanted to go on an adventure, read this book." — Marie Lu, New York Times bestselling author
"Unique and utterly spellbinding; a fast-paced, fantastical thrill ride from beginning to end." —Gregory Funaro, New York Times bestselling author of Alistair Grim's Odditorium
"With propulsive prose and impeccable pacing, Amie Kaufman has created a wholly absorbing fantasy world that feels both ancient and dangerous. Readers will devour this tale of fire and ice, magic and mystery, family and friendship—and immediately beg for the next book. Engrossing and vibrant." —Claire Legrand, acclaimed author of Foxheart
"In her first solo novel, Kaufman (Unearthed) conjures an intriguing world with memorable, diverse characters." — Publishers Weekly
"A thrilling, nonstop adventure with vibrant characters and the kind of richly imagined world you never want to leave." —Shannon Messenger, New York Times bestselling author of the Keeper of the Lost Cities series
"Dragons! Wolves! Epic battles! Divided loyalties! Amie Kaufman's Ice Wolves is full of fast-paced adventure, but at its heart it's also the tale of one boy facing two classic questions: Where do I belong? and Who am I? The answers he finds will enthrall any reader." —Margaret Peterson Haddix, New York Times bestselling author of the Shadow Children series and the Missing series
"Nestled between fast-paced action and vivid imagery, Kaufman deftly shares with us the heartache of lives diverging, of losing the one person who has always been with you in the fight against the world. I feel this story so deeply and I want more!" —Alex Gino, award-winning author of George
---
Publishers
ANZ: HarperCollins Australia
Germany: Ravenburger
Spain: HarperCollins Iberica
Romania: Corint Books