The Isles of the Gods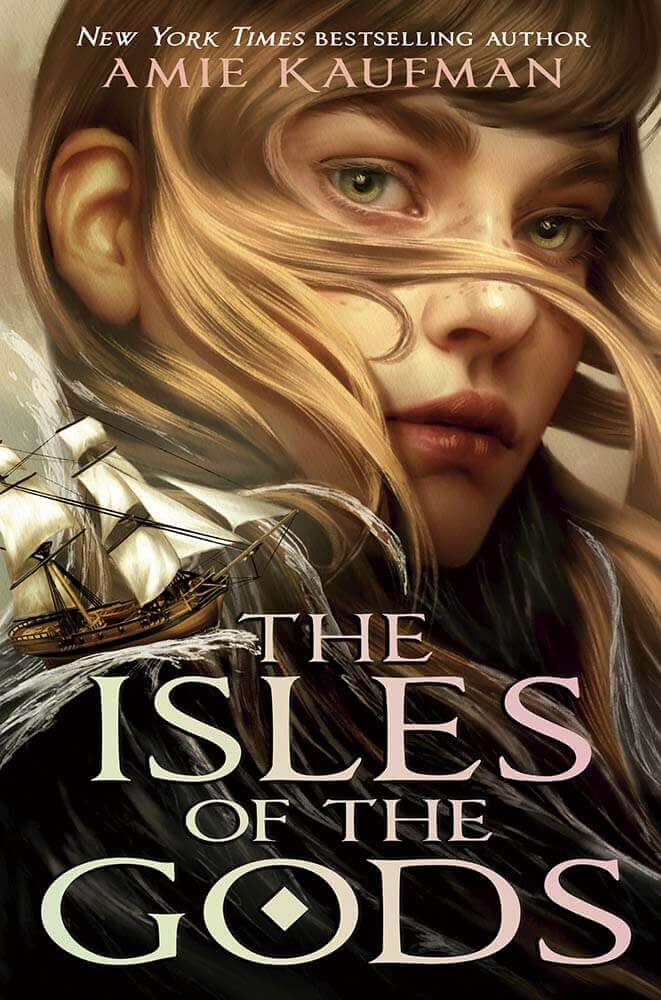 Magic, romance, and slumbering gods clash in the start of a riveting fantasy series that spans gangsters' dens, forgotten temples, and the high seas from the New York Times bestselling author of the Aurora Cycle and the Illuminae Files.
Selly has salt water in her veins. So when her father leaves her high and dry in the port of Kirkpool, she has no intention of riding out the winter at home while he sails off to adventure. But any plans to follow him are dashed when a handsome stranger with tell-tale magician's marks on his arm commandeers her ship. He is Prince Leander of Alinor and he needs to cross the Crescent Sea without detection so he can complete a ritual on the sacred Isles of the Gods.
Selly has no desire to escort a spoiled prince anywhere, and no time for his entitled demands or his good looks. But what starts as a leisure cruise will lead to acts of treason and sheer terror on the high seas, bringing two countries to the brink of war, two strangers closer than they ever thought possible and stirring two dangerous gods from centuries of slumber…
---
---
---
---
Reviews
"Kaufman's organically incorporated, intricate mythology never detracts from the action-packed plot or the complex relationships developing between the variously diverse characters." — Publishers Weekly starred review
"Once again, Amie Kaufman gives us an epic, propulsive adventure filled with characters that demand to be loved instantly. The lore of the gods is cool, the prince is delightfully full of himself–the twists and betrayals make for a breathless wild ride…I didn't know what to do besides keep turning the pages." — Kendare Blake #1 New York Times bestselling author of Three Dark Crowns
"Gorgeous and gripping from the first line, The Isles of the Gods will sweep you away on an epic adventure of gods, magic and romance. Kaufman weaves a tale of clashing tall ships, princes in disguise, and a heroine with a mystery that could shake the world. A must read for any who dream of adventure!" — C.S. Pacat, New York Times bestselling author of Dark Rise
"With a dynamic cast that I adored, an unlikely group of friends that I wanted to be a part of, and a slow-burn romance that had me smiling with every line, The Isles of the Gods refused to let me put it down. I nearly missed my own deadline because of this book, and I absolutely cannot wait to return to this world." —Brigid Kemmerer, New York Times bestselling author of Defy the Night
"The Isles of the Gods will carry you away on a rollicking adventure brimming with magic, mythology, and danger. With an immersive world begging to be explored, and characters you'll treasure, this story is as fun as it is fierce. The sea beckons and destiny calls-don't miss this one!" — Alexandra Bracken, #1 New York Times bestselling author of Lore
"A lush fantasy world so evocative and romantic that you will feel the salty spray of the ocean on your skin, populated with an endearing cast of characters destined to steal hearts. I loved every second I was immersed in this epic story, and you will too. Deserves to be a classic." — Marie Lu, #1 New York Times bestselling author of Skyhunter
"The Isles of the Gods is explosive, shocking, and absolutely thrilling. Amie Kaufman has done a brilliant job of writing a book that is both deliciously diabolical and full of heart. I was absolutely enthralled!" — Stephanie Garber, New York Times bestselling author of Caraval series
"I devoured it. When is the next book?" — Garth Nix, New York Times bestselling author of Old Kingdom series
"The Isles of the Gods transported me straight into another world and swept me up in a high seas adventure for the ages. With playful magic, high-stakes action, sweetly-simmering romance, and lovable (and hateable!) characters, Amie Kaufman continues to prove her talent as a master storyteller. I need the next book, stat!" —Lynette Noni, #1 bestselling author of The Prison Healer