The World Between Blinks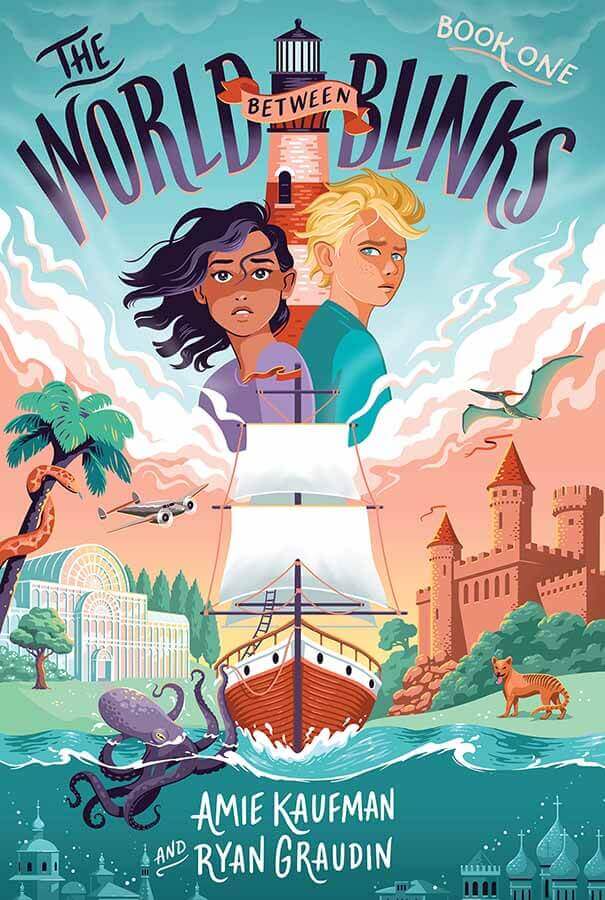 A new middle-grade adventure fantasy series by Ryan Graudin and Amie Kaufman.
Discover a magical world where lost things are found.
 
Whenever cousins Jake and Marisol get together, adventure follows. They have their late Nana to thank for that. Her epic trips and treasure hunts were the stuff of family legend.
 
This summer, with the whole family reuniting for one last vacation at Nana's home, the cousins are in for a legendary trip of their own.
 
Following a map Nana left behind, Jake and Marisol sneak out to a nearby lighthouse—then accidentally slip into another world! The World Between Blinks is a magical place where all kinds of lost things (and people!) end up. Everywhere they turn, the cousins find real mysteries from history—plus a few they thought were only myths.
 
But the man who holds the key to Jake and Marisol's return journey doesn't want to be found . . . and if the cousins don't catch him fast, they could end up lost in this world for good.
Educators and parents: Click here to see a free teaching guide for The World Between Blinks, featuring loads of activities for before, during and after reading.
---
---
---
Reviews
"A clever, imaginative tale that grew more magical with every turn of the page." — New York Times best-selling author J.C. Cervantes
"A rollicking fun adventure! The World Between Blinks is both a suspenseful mystery with a surprise twist, and a treasure hunt for people, places, and things that vanished from history." — Margaret Peterson Haddix, New York Times bestselling author
"A tale drenched in whimsy and laughter, Kaufman and Graudin's story is bursting at the seams with imagination. A treat for readers young and old." — Roshani Chokshi, New York Times bestselling author
"[An] incredibly inventive story, chock-full of delightful descriptions and fascinating tidbits. Readers will have enormous fun following the cousins as they navigate their strange situation and piece together their place in it." — Booklist (starred review)
"A brilliant, heartwarming blend of history, mystery, and adventure. I raced through every page, afraid to blink and miss part of the wonder." — Shannon Messenger, New York Times bestselling author
"A fast-paced fantasy adventure that will appeal to genre fans and reluctant middle grade readers alike." — School Library Journal (starred review)
"An inventive, heartwarming first book in a new middle-grade series." — Kirkus Reviews
"Kaufman and Graudin take full advantage of the book's inventive premise, introducing readers to a host of exciting historical oddities and concepts." — Publishers Weekly
"[A] fast-paced adventure romp through the world of the missing." — Bulletin of the Center for Children's Books
---
Publishers
Hungary: Konyvmolykepzo
Australia: HarperCollins