Author Archive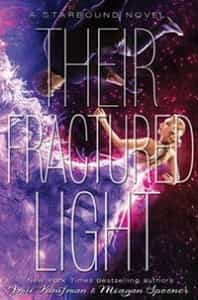 A year ago, Flynn Cormac and Jubilee Chase made the now infamous Avon Broadcast, calling on the galaxy to witness for their planet, and protect them from destruction. Some say Flynn's a madman, others whisper about conspiracies. Nobody knows the truth. A year before that, Tarver Merendsen and Lilac LaRoux were rescued from a terrible shipwreck—now, they live a public life in front of the cameras, and a secret life away from the world's gaze.
Now, in the center of the universe on the planet of Corinth, all four are about to collide with two new players, who will bring the fight against LaRoux Industries to a head.
Gideon Marchant is an eighteen-year-old computer hacker and urban warrior known in Corinth's underworld as The Knave of Hearts. He'll climb, abseil and worm his way past the best security measures to pull off onsite hacks that others don't dare touch.
Sofia Quinn has a killer smile, and by the time you're done noticing it, she's got you offering up your wallet, your car, and anything else she desires. She holds LaRoux Industries responsible for the mysterious death of her father back on Avon and is out for revenge at any cost.
When a LaRoux Industries security breach interrupts Gideon and Sofia's separate attempts to infiltrate their headquarters, they're forced to work together to escape. Each of them has their own reason for wanting to take down LaRoux Industries, and neither trusts the other. But working together might be the best chance they have to expose the secrets LRI is so desperate to hide.
Speak up:
9 comments
The second instalment in the epic Starbound trilogy introduces a new pair of star-crossed lovers on two sides of a bloody war.
Jubilee Chase and Flynn Cormac should never have met.
Lee is captain of the forces sent to Avon to crush the terraformed planet's rebellious colonists, but she has her own reasons for hating the insurgents.
Rebellion is in Flynn's blood. Terraforming corporations make their fortune by recruiting colonists to make the inhospitable planets liveable, with the promise of a better life for their children. But they never fulfilled their promise on Avon, and decades later, Flynn is leading the rebellion.
Desperate for any advantage in a bloody and unrelentingly war, Flynn does the only thing that makes sense when he and Lee cross paths: he returns to base with her as prisoner. But as his fellow rebels prepare to execute this tough-talking girl with nerves of steel, Flynn makes another choice that will change him forever. He and Lee escape the rebel base together, caught between two sides of a senseless war.
The stunning second novel in the Starbound trilogy is an unforgettable story of love and forgiveness in a world torn apart by war.
For the best way to order This Shattered World, check out the book's website.
Speak up:
2 comments
Don't miss the breathtaking short story that connects the first two novels in the Starbound trilogy, These Broken Stars and This Shattered World.
Now available as a free e-book!
Tarver still has nightmares about the night, six months before the Icarus crash, when he rescued a group of civilian researchers being held hostage by brutal mercenaries. Now Tarver and Lilac must reconcile his memories of that fateful night with the truth that they uncovered on a mysterious planet after the Icarus crashed.
Includes three bonus preview chapters from This Shattered World! Download for free today for your e-reader or computer!
Download links
In the US: B&N . Google Play . Kobo . Amazon
In Australia: Kobo . Google Play . iBooks .
Internationally: Scribd (PDF)
Speak up:
comment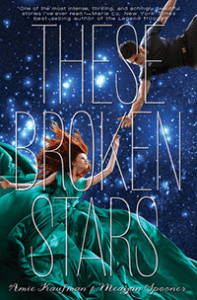 A New York Times and international Bestseller, in development for TV with Off The Grid Entertainment and MGM.
THESE BROKEN STARS is out now from Disney-Hyperion in the US, and Allen & Unwin in Australia. You can check out the These Broken Stars website for the best ways to buy your copy!
"Absolutely brilliant. This is the sci fi I've been waiting for!" — Beth Revis, New York Times bestselling author of Across the Universe.
"One of the most intense, thrilling, and achingly beautiful stories I've ever read. Kaufman and Spooner will break your heart with skilled aplomb, and you'll thank them for it. Absolutely incredible! If I have to, I will come to your house and shove this book into your hands!"—Marie Lu, New York Times best-selling author of the Legend trilogy
"With rich, complex characters and a dynamic—and dangerous—new world, THESE BROKEN STARS completely transported me." —Jodi Meadows, author of the Incarnate series
Honours/Awards
Winner, Aurealis Award for Best Young Adult Novel, 2013
Huffington Post Best Overall YA Book of 2013
VOYA Magazine's Best Science Fiction, Fantasy & Horror List, 2013
Romantic Times Top Pick
Shortlist, Gold Inky Award
About THESE BROKEN STARS
It's a night like any other on board the Icarus. Then, catastrophe strikes: the massive luxury spaceliner is yanked out of hyperspace and plummets into the nearest planet. Lilac LaRoux and Tarver Merendsen survive. And they seem to be alone.
Lilac is the daughter of the richest man in the universe. Tarver comes from nothing, a young war hero who learned long ago that girls like Lilac are more trouble than they're worth. But with only each other to rely on, Lilac and Tarver must work together, making a tortuous journey across the eerie, deserted terrain to seek help.
Then, against all odds, Lilac and Tarver find a strange blessing in the tragedy that has thrown them into each other's arms. Without the hope of a future together in their own world, they begin to wonder—would they be better off staying here forever?
Everything changes when they uncover the truth behind the chilling whispers that haunt their every step. Lilac and Tarver may find a way off this planet. But they won't be the same people who landed on it.
The first in a sweeping science fiction trilogy, These Broken Stars is a timeless love story about hope and survival in the face of unthinkable odds.
Praise for THESE BROKEN STARS
*Starred Review* These Broken Stars is at its heart a love story. Voiced in alternate chapters, Lilac and Tarver are characters of depth, complexity, and strength, young people who alternately elicit the reader's admiration, frustration, and sympathy. While the book is the first of a promised trilogy, it stands on its own as a testament to love, loyalty, courage, and the power of good over dystopian greed and perversity. — BOOKLIST
Kaufman and Spooner's debut collaboration is a stunning, gorgeously imagined romance with epic sweep, brimming with lush detail of setting and intricate character study. It's the kind of read to savor, but the survivalist plotting still rushes the reader to keep turning pages. — INGRAM LIBRARY GROUP
With well-developed characters and an excellent narration style, Amie Kaufman and Meagan Spooner have crafted an insightful, shrewd and genuinely moving exploration of life, humanity and the moral obligations neglected in the name of progress. These Broken Stars is a romantic and heartbreaking tale that is complete in its own right while still leaving readers excited for future instalments. Intense, emotional and compelling, it will appeal to readers who like their sci-fi thoughtful and challenging–and just a little bit sexy. — BOOKS + PUBLISHING
Kaufman and Spooner couple an epic romance with dazzling science fiction in a tale that will appeal to lovers of both genres. This is a must-read. 5Q (Quality rating of 5/5), Best Science Fiction, Fantasy & Horror List, 2013 — VOYA MAGAZINE
*Top Pick* This is not a lighthearted adventure story; this is a novel about survival. As the protagonists deal with insanity, death and utter despair, the complete hopelessness of their situation makes it more compelling, and the bond that they form all the more real. 4.5/5 — ROMANTIC TIMES BOOK REVIEWS
First-time author Kaufman and coauthor Spooner begin their science-fiction romance in familiar territory and then chart a course that goes to new heights … a wonderful tale that should appeal to both teen and adult readers. — SCHOOL LIBRARY JOURNAL
Strange visions and apparitions give the story a chilling edge, and a late revelation elevates these developments into entirely new territory. In a collaboration that, at times, evokes Lost, Titanic, and Romancing the Stone, Spooner (Skylark) and newcomer Kaufman do an excellent job of keeping their story from falling into clichéd romantic territory … the external conflicts and underlying mysteries will keep readers guessing (and turning the pages). — PUBLISHERS WEEKLY
Speak up:
1 comment
Coming in 2017, the third book in The Illuminae Files will conclude the story. Click here to add it on Goodreads, and subscribe to Amie's newsletter to be reminded when it comes out!
Speak up:
1 comment
Coming October 18th 2016, Gemina, will continue the story from Illuminae.
Click here to add it on Goodreads, and subscribe to Amie's newsletter to be reminded when it comes out!
Moving to a space station at the edge of the galaxy was always going to be the death of Hanna's social life. Nobody said it might actually get her killed.
Hanna Donnelly is the station captain's pampered daughter; Nik Malikov the reluctant member of a notorious crime family. But while the pair are struggling with the realities of life aboard the galaxy's most boring space station, little do they know that Kady Grant and the Hypatia are headed right toward Heimdall, carrying news of the Kerenza invasion.
When an elite BeiTech strike team invades the station, Hanna and Nik are thrown together to defend their home. But alien predators are picking off the station residents one by one, and a malfunction in the station's wormhole means the space-time continuum might be ripped in two before dinner. Soon Hanna and Nik aren't just fighting for their own surivival; the fate of everyone on the Hypatia—and possibly the known universe—is in their hands.
But relax. They've totally got this. They hope.
Speak up:
1 comment
Illuminae is the NYT and internationally bestselling first book in a new trilogy co-authored with Jay Kristoff, and in development for film with Brad Pitt's Plan B Entertainment. Visit the Illuminae Files website for exclusive content and extras! 
"Never have I read a book so wholly unique and utterly captivating. Brace yourself. You're about to be immersed in a mindscape that you'll never want to leave." —Marie Lu, New York Times bestselling author of the Legend trilogy
"This is one of those rare books that will truly keep your heart pounding and the pages turning as you peel back the layers –and you hope that the characters you love survive." — Beth Revis, New York Times bestselling author of Across The Universe
"Nervy chicks, cute fighter pilots, lots of heart, lots of heartbreak, a mentally unstable battleship, and even pink hair! This book is XXXXing awesome!" — Laini Taylor, New York Times bestselling author of Daughter of Smoke and Bone
"An exuberant mix of space opera, romance, zombies, hackers, and political thrills, told with eccentric aplomb. 

Illuminae

 is both the weirdest and most heartfelt thing you'll read this year." — 

Scott

Westerfeld

, New York Times bestselling author of Uglies and Zeroes
"An edge of your seat thrill ride that left me breathless. Genre: Undefinable. Novel: Unforgettable." — Kami Garcia, #1 New York Times bestselling coauthor of Beautiful Creatures and author of Unbreakable
"Not only is ILLUMINAE a twisting, heart-pounding story moving at the speed of light, but it is a truly beautiful novel that redefines the form. I have never read anything like it. And it certainly filled the BATTLESTAR GALACTICA shaped hole in my heart." — Victoria Aveyard, #1 New York Times bestselling author of The Red Queen
"Stunningly creative. Smart, funny, and romantic. This is the book I've been waiting for." — Veronica Rossi, New York Times bestselling author of Under The Never Sky
For fans of Marie Lu and James Dashner comes the first book in an epic new series.
This morning, Kady thought breaking up with Ezra was the hardest thing she'd have to do.
This afternoon, her planet was invaded.
The year is 2575, and two rival megacorporations are at war over a planet that's little more than an ice-covered speck at the edge of the universe. Too bad nobody thought to warn the people living on it. With enemy fire raining down on them, Kady and Ezra—who are barely even talking to each other—are forced to fight their way onto one of the evacuating fleet, with an enemy warship in hot pursuit.
But their problems are just getting started. A deadly plague has broken out and is mutating, with terrifying results; the fleet's AI, which should be protecting them, may actually be their enemy; and nobody in charge will say what's really going on. As Kady hacks into a tangled web of data to find the truth, it's clear only one person can help her bring it all to light: the ex-boyfriend she swore she'd never speak to again!
Told through a fascinating dossier of hacked documents—including emails, schematics, military files, IMs, medical reports, interviews, and more—Illuminae is the first book in a heart-stopping, high-octane trilogy about lives interrupted, the price of truth, and the courage of everyday heroes.
Reviews/Awards
"Ambitious, heartbreaking, and out-of-this-world awesome." —Kirkus Reviews starred review
"…a stylistically mesmerizing tale, where story and art are interchangeable, and words act as pictures." — Publishers Weekly starred review
"A fast-paced, quasi-political sci-fi thriller that is completely unique." — Booklist starred review
"Unforgettable. A game-changer for its genre." — Shelf Awareness starred review
"You'll cheer, you'll gasp, you'll hang on for all 600 pages. Illuminae is a real feat of fiction." — Romantic Times gold pick
"This Sci-Fi space adventure will be your new YA obsession." — MTV
• A Kirkus Best Books of 2015 pick
• A Booklist Best YA Books of 2015 pick
• A YALSA Best Fiction of 2016 pick
• A VOYA's Perfect Tens of 2015 pick
• A Romantic Times Gold Pick
• An Amazon Best YA Books of 2015 pick
• A Junior Library Guild selection
• A Goodreads Choice Awards semi-finalist
• An io9 Best Books of the Fall pick
• A Bustle.com Best Books of the Fall and of 2015 pick
• A Mighty Girl top books of 2015 book
• A YALSA Top Ten Audiobook pick
• A Huffington Post Top Ten YA Books of 2015 pick
• A Sydney Morning Herald best books of the year pick
• An iBooks best YA books of the month pick
Speak up:
2 comments
The series features an ancient, ongoing battle between two clans of humans who can shapeshift – ice wolves and scorch dragons – and follows two siblings who combine the powers of the enemy clans.
The first book, as yet untitled, pubs in winter 2018, and the next two books will follow annually thereafter.
Publishers
USA: HarperCollins
Goodreads: book 1 | book 2 | book 3
Speak up:
3 comments